Maryland might be one the smallest states in the US, but it is packed with charm, history, and beauty. It is home to scenic landscapes, natural beauty, and idyllic communities dotted along the coast.

If you're considering moving to Maryland, the first order of business is deciding which community you want to live in. Maryland abounds with picturesque towns, including some waterfront gems that are worth mentioning.

We're here to tell you about some of Maryland's most sought-after waterfront communities. From Easton to Oxford, here are three of the most desirable coastal communities in Maryland.
Easton
Once you spend some time in
Easton
, you'll quickly come to understand why it was ranked the 8th Best Small Town in America, according to USA Today. With a population of just under 17,000 residents, Easton allows residents to enjoy the best of small-town living. Residents also enjoy being in close proximity to many major metropolitan areas, including Baltimore, Annapolis, Washington, and Wilmington. Talk about the best of both worlds!
The
history of Easton
stretches back to 1709, where it was first home to the Eastern Shore's courts and governmental offices. Additionally, the town was known for having the shore's finest bank, the first newspaper, and the first brick hotel in Talbot County.
Since Easton's humble origins, the town has steadily grown into a successful and desirable place to reside. If you would like to learn more about the history of Talbot County and the origins of Easton, you can visit the
Talbot Historical Society Museum
. The museum features vintage photos that tell the story of Talbot County and its people, as well as award-winning gardens, open daily.
Easton today offers culture, shopping, fine dining, and delightful B&Bs amidst charming homes and businesses that show the rich history of the town. Excellent schools, low crime, and an active local community are some more appealing qualities residents of Easton can experience firsthand.
A drive through this idyllic neighborhood will reveal shady, tree-lined streets and a variety of architectural styles. Some popular architectural styles include Cape Cod, Craftsman, Colonial, Victorian, and mid-century modern, among various other styles. Regardless of your preferences, you can find a style that suits your personality. According to Zillow, the
average price of a home in Easton
is $345,000.
Although it's a relatively small town, Easton is anything but boring. For an evening out, consider heading to the historic
Town Center
, which is lined with restaurants, shops, and galleries. This coastal community provides residents with ample opportunities to connect with nature and explore the great outdoors. You can golf at one of the many golf courses, visit nearby refuges and watch eagles soar, kayak or canoe on the waterways, or explore the local flora and fauna of the gardens.
If you enjoy biking, then you'll be sure to love the
Tred Avon Circle
. This loop stretches over 35.4 miles and is primarily used by avid and experienced bikers. Additionally, Easton is known for being a hub for arts and cultural centers, as well as top-notch theatrical performances and plentiful music venues.
Throughout the year, Easton hosts a number of exciting
events, activities, and festivals
. The Amish Country Farmers Market takes place during the summer at the Easton Plaza. This indoor market is open Thursday through Saturday and features fresh produce, meats, dairy products, furniture, handcrafted items, and indoor and takeaway dining. You can also participate in a Historic Walking Tour, which takes place on the third Saturday of the month. View many of the town's earliest Federal buildings and learn about the stories and history that have shaped Easton.
Easton also knows how to put on a great festival, such as the
Waterfowl Festival
in October. This is America's premier wildlife art exposition featuring artwork from more than 300 artists recognized worldwide. If you're new to town, these events provide the perfect opportunity to get connected with your new community!
Oxford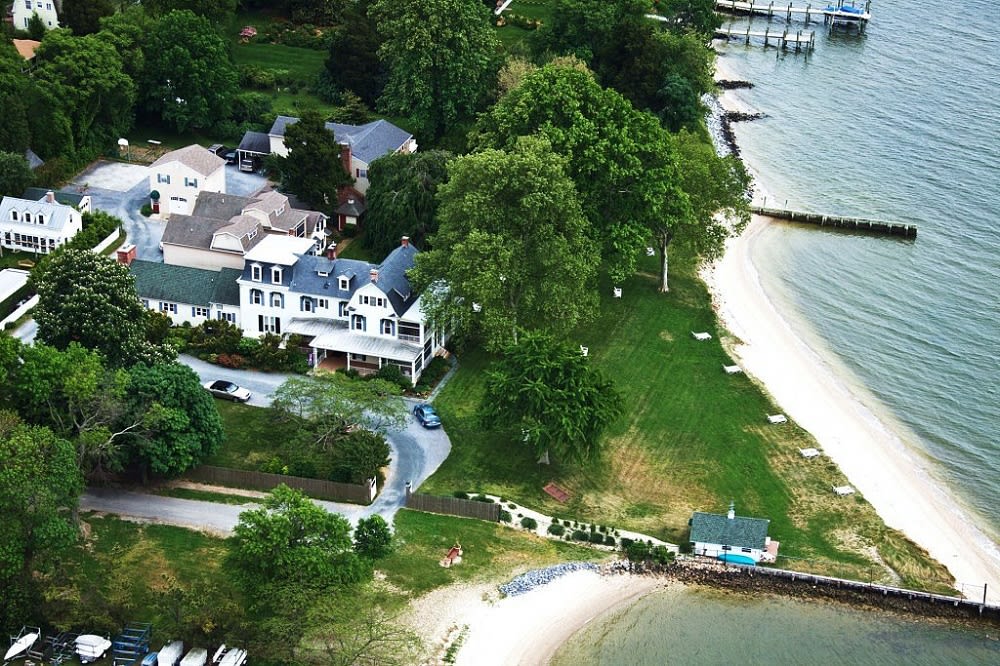 Credit: Trip Advisor
Located in Talbot County,
Oxford
is a waterfront town that exudes charm and character. The town has a population of less than 1000, giving residents the ultimate small-town experience. Oxford is one of the
oldest towns in Maryland
and is listed on the National Registry of Historic Places. The town marks 1683 as its official founding, although it is estimated to have been in existence for approximately 20 years at that time.
Oxford was first named by the Maryland General Assembly as a seaport and was laid out as a town. In 1694, the town was selected as one of two ports of entry for the entire Maryland province. As such, Oxford continued to thrive and enjoyed prominence as an international shipping center. However, this changed during the American Revolution, which signaled the end of British ships with imported goods, bankrupt businesses and a dwindling population. In 1871, the railroad came to town, which inevitably opened national markets for oysters from the Chesapeake's bountiful bay.
Today, Oxford still serves as a waterman's town and was even named the
world's best waterfront town
by Yachting Magazine in 2011. The town has also enjoyed a new resurgence based on tourism and leisure activities. It is beloved for its charm, fresh air, summer breezes, and clean water. This waterside community serves as a haven from the hustle and bustle of city life for boaters, weekend visitors, and summer residents.
Whether you are visiting the town for the weekend or moving here, there's plenty to do in Oxford. Wander through the idyllic streets, dine in local restaurants or head over to one of the several marinas to cruise.
Combsberry Inn Bed & Breakfast
is a historic 1730 waterfront English Country Manor Home. It's the perfect spot to stay for a vacation or even a staycation!
If you want to soak up the sunshine or perhaps enjoy a picnic, head over to the park on Morris Street. The park offers an incredible view of the Tred Avon River and even has swings that overlook the river. Across from the park, you can learn more about the history of the town at
The Oxford Museum
. The museum hosts a collection of artifacts shared by local families and stories that give a glimpse into life in the 1600s.
St. Michaels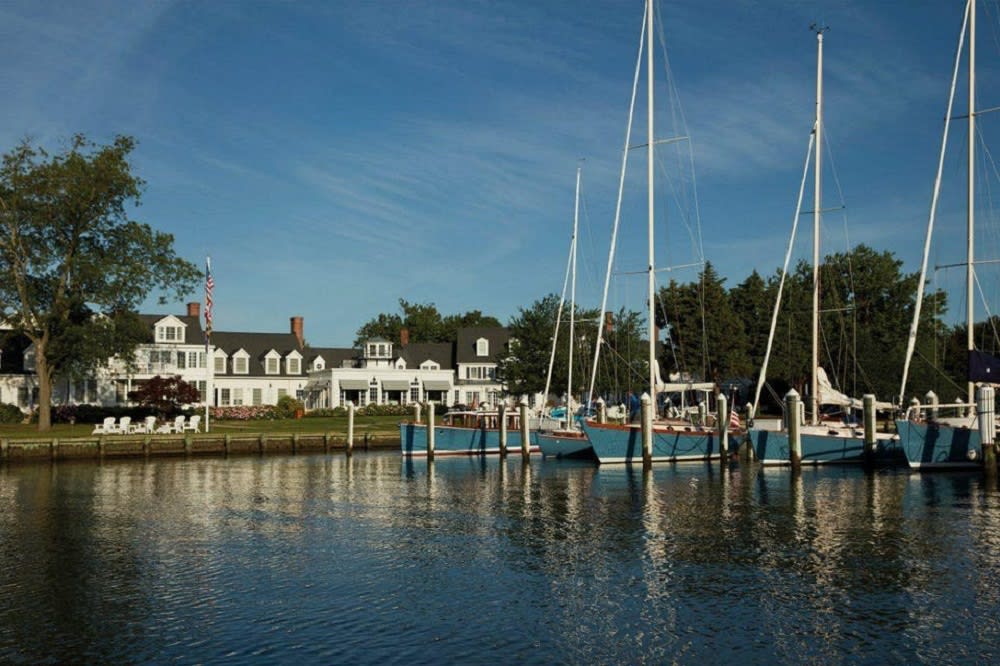 Credit: Forbes
St. Michaels
was named one of USA Today's Top 10 Best Small Coastal Towns, and once you've been here, it's not difficult to understand why. This picturesque harbor is situated on Maryland's Eastern Shore and is home to just under 1,200 residents.
The
history of St. Michaels
dates back to the mid-1600s, where it once served as a trading post for area tobacco farmers and trappers. In 1778, a British land agent purchased 20 acres and deeded 58 lots, which created St. Mary's Square. This square now serves as the historic center of St. Michaels. Today, this charming seaside resort reflects its colonial past in its architecture and its deep historical roots. Many of the area's homes date from the late 1700s to the late 1800s and come in various architectural styles.
St. Michaels
offers residents and visitors alike plenty to do, including popular marinas, inns, bed & breakfasts, shops, restaurants, and more. This makes it a favorite destination for boaters, as well as those who visit by car. Those who are lucky enough to live here enjoy the abundance of charm, hospitality, and friendliness. St. Michaels is home to individuals from all walks of life, ranging from retirees looking to settle down to outdoor enthusiasts to families looking for a quiet and safe community to raise their children.
The town might have a population of less than 2,000, but this town still is proud to offer an assortment of
events and activities
throughout the year! The St. Michaels Farmers Market is held every Saturday, regardless of sun or rain. Dozens of local farmers, bakers, and artisans come together to offer the community the freshest and best-tasting local flavors. Additionally, the popular
St. Michaels Running Festival
, which is held in August, is rapidly approaching. It has been deemed one of the premier destination races in the Mid-Atlantic since the inaugural event in 2012. Upon completing the race, runners will experience small-town hospitality first-hand, from prizes to an exciting after-party.
If you're looking for Maryland real estate,
contact Laura Carney
today. Whether you're looking for a short-term rental or a forever home, Laura can walk you through the process from start to finish and help you find a place that's right for you. She is an expert in everything from St. Michaels waterfront homes to Easton Village homes for sale. Laura and her team are ready to help you find a house that truly feels like home.